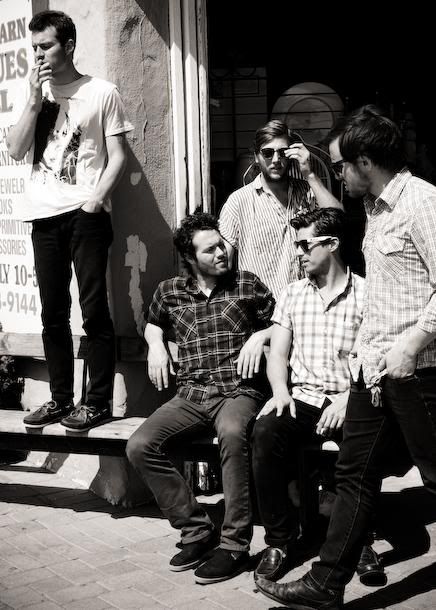 Delta Spirit visited the fair city of Washington DC last night with new material and guess what, these guys are getting better and better. The first time I saw this band they played a sold out show at the Bowery Ballroom in NYC and I went around saying that I thought it was the best show I had ever seen. The music has so much energy at times that it gets people jumping up and down screaming along with the lyrics. There is so much more to this band though. The lyrics are substantive, poignant and Matt Vasquez proudly wears his heart on his sleeve, and gives himself to the crowd. This band's live performance will send true emotion coursing through your veins.
Delta Spirit all hail from San Diego, and Mat Vasquez was the last addition to the band. The band supposedly found him busking loudly on a park bench late at night, and he would later become their front man. Their debut album "Ode to Sunshine" was well received by the critics and now they're currently working on their sophomore effort "History from Below". The tour they are doing now is undoubtedly a way for them to try out the new material in front of a crowd. From what I heard last night (which was mostly new stuff) it's stronger lyrically than anything off "Ode to Sunshine." And that's not to say that that album wasn't great itself, it's just that the new stuff sounds even better. Along with the new stuff they played some favorites off the old album such as "Trashcan" where Vasquez plays keys and the keyboard player uses the top of a trashcan as a drum. The song "Motivation" which was off of their LP and that they said they have not played in three years was played as well. They've added a new guitarist into the mix; filling out the sound and making them sound even bigger than they were. Vasquez is deliberate and honest in his tone and delivery. To me, its almost unbelievable how much goddamn passion and soulfulness is in this band at the moment.
DC9 is a pretty small club and the scene was really different than when I saw them at the Bowery Ballroom over the summer. I'm surprised that they played such a small venue considering they sold out in New York but maybe it might have to take a bit more time for the rest of the world to catch on to the talent of this band. They deserve to be huge. The up close and personal experience may be the best way to see this band though. Go see them live, listen to the lyrics, open up and let it all sink in.